OUR THEME FOR 2019
"LISTEN, OBSERVE, ACT – IN STEP WITH GOD"
DATES FOR YOUR DIARY: 18/19th October : All Ireland Women's Getaway Weekend, Armagh City Hotel
 19th October: Diocesan Trustees & Council Meeting, 10.30am, Embury Close, Adare
 2nd November: All Ireland Council, 10.30am Springfield Hotel, Leixlip, Co. Kildare
 7th November: All Ireland Holy Communion Service 11.15am Christ Church Cathedral, Dublin – Derry & Raphoe with Limerick & Killaloe Diocese hosting
 November: Prayer Vigil for 16 Days of Activism – Date & venue to be decided
Commissioning Service: I was very privileged to be able to attend the Commissioning Service of our new All Ireland President, Mrs June Butler, in Down Cathedral, Downpatrick. June was commissioned by Archbishop Richard Clarke during a wonderful service of celebration. The new All Ireland Trustee Board was also commissioned by Archbishop Clarke. The address was given by The Rt. Revd Harold Miller, Bishop of Down and Dromore, who asked that we pray for June as she begins this challenging role. The service was also attended by several past All Ireland Presidents including Lady Eames, Mrs Paddy Wallace, Mrs Margaret Crawford, Mrs Ruth Mercer and, of course, Mrs Phyllis Grothier. The Lindsay Chorale sang throughout the service which included the "Battle Hymn of the Republic", which was very moving. Following the service we all enjoyed a lovely afternoon tea in the St. Patrick's Tourist/Heritage Centre nearby.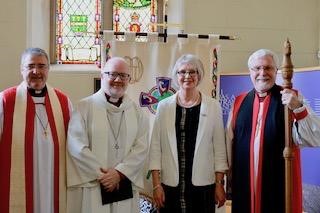 From left: Bishop John McDowell, The Most Revd Richard Clarke, Archbishop of Armagh, Mrs June Butler and Bishop Harold Miller, Bishop of Down & Dromore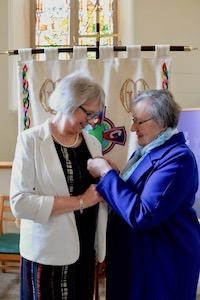 Mrs June Butler receiving her badge of office from Mrs Phyllis Grothier
New All Ireland Chaplain: Canon Robert Deane has become our new All Ireland chaplain having taken over from Dean Raymond Ferguson. Canon Deane was commissioned in a service in Christ Church Cathedral, Dublin which was held during our All Ireland Council meeting on Saturday 6th April. We look forward to working with Dean Robert over the coming years.
Lucy Kavanagh, Diocesan President Mothers' Union